Reader Meet Author: Noel Sloboda
---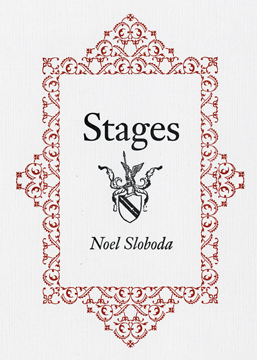 "Hot liquid brown, accented by a perfect slit of pink scar tissue, set against the backdrop of a white robe lifted, to serve as proof of devotion."
There is a lot to be learned from history, and as life continues to rapidly change and morph into something more transient and highly digital, it is even more important to value history. Among the topics that Noel Sloboda addresses in his poetry is our history and namely the work of Shakespeare. Of his latests collections, Stages, attempts to explore and celebrate several works by Shakespeare. In the slim, hand-stitched collection, Sloboda manages to touch on several diverse topics including sex, addiction, and even parenting.
Noel has also recently released a collection through Finishing Line Press, and I thought this would be a perfect time to ask him a few questions.
Orange Alert (OA): You recently released a new collection through Sunnyoutside, what can you tell us about Stages?
Noel Sloboda (NS): The poems in Stages all relate, in one way or another, to Shakespeare's plays. Some of the poems touch on experiences I've had working in the theatre, as a dramaturg, while others center on the scripts. The chapbook was great fun to write.
OA: What was is it like working with David and Sunnyoutside again?
NS: Since Sunnyoutside published my first collection, Shell Games (2008), I was very comfortable dealing with David. He's not only a fine craftsman, but also a shrewd editor. I knew that he would make the work in Stages better, while presenting it in an elegant form. Still, I made a great number of discoveries developing Stages—probably in part because the content was so different than my previous project with the press. Shell Games focused largely on quotidian dramas. The content of Stages called for a radically different approach, one that spoke to the historical and theatrical influences in the poems. And David made sure we realized that approach.
OA: You also recently released Of Things Passed, how was your experience with Finishing Line Press?
NS: Finishing Line Press has been a pleasure to work with too, though it's a very different organization—a "big" small press, if you will. Sunnyoutside is one person working with just a handful of authors, and FLP is made up of a staff working with dozens of authors. With FLP, there's a definite way to go about the work; it's been developed by the press collaborating with hundreds of authors, and it's proven effective. With that said, I've always been able to get in touch right away with a real person in Kentucky to address questions about Of Things Passed. The folks there care about poetry as much as anyone I've run across in publishing.
OA: Was the timing of two releases intentional?
NS: No. But then, in my limited experience, publishing timelines aren't possible to predict or to control with any degree of precision. Both manuscripts were completed over a year ago. They just happened to drop around the same time—which is neat, to me, because they are so different.
OA: I really like the cover art of Of Things Passed. How important is cover art and appearance to you and your work?
NS: I began college as an art major, and I am (like many people today) very visual. So yeah, I think a great deal about the look of my work.
With Of Things Passed, I was fortunate enough to have the support of my good friend, Fred Haag. (His online portfolio is here). Fred was working on a group show, and one of his pieces powerfully spoke to me. Fred modified the original in a new illustration, which became the cover of Of Things Passed.
OA: Has the discipline of karate carried over to your writing in any way?
NS: Although I spent many years devoted to the martial arts, many more years have passed since I've been an active practitioner. Now I ache just thinking about the things I used to do daily.
But there's certainly something to be said about the way studying martial arts can develop your imagination. A lot of what you do when you're training is solo—but you're constantly thinking about another person (usually one coming at you). And if you're any good at sparring, you can read your opponent and predict how he or she will move. Writing is similar in that it asks you always to think about others even while you're completing a lot of what needs to be done alone.
OA: What's next for Noel Sloboda?
NS: I have a chapbook of prose poems, Circle Straight Back, coming out with Cervena Barva Press sometime in 2011. And I am working on new poems in the same vein as those in Stages to develop a full-length collection of Shakespeare-inspired poems.
Stages was released on April 1st, and can be purchased here.
ShareThis